It has been a busy month... then again in my life every month is a busy month. I guess you could say I like it that way :) I truly can''t remember my life ever being anything but busy!!
In the middle of September I was fortunate to participate in the Susan K. Black Foundation week long painting gathering in Dubois, WY. I'll be honest, I did a lot more gabbing and watching than I did painting, but I did pick up some great ideas and techniques that I hope to put in to practice down the road. I honestly have been doing very little painting at all... but have been scratching away trying to build my inventory back up a bit after my most successful sales year ever! I am already looking at a busy 2013 schedule!
Following my painting workshop I spent a few days in Grand Teton National Park and Yellowstone. My good friend and fellow wildlife artist,
Kim Diment
, from Michigan accompanied me for a couple of days and we had a great time with lots of laughs. My photo ops were not as exciting as last year, but the company was great and I still came home with some nice images.
The weekend following my trip was the judging for the Federal Duck Stamp competition. This was my first year entering and my piece did 'ok' making it past the first round with four out of five 'in' votes (you have to get three to advance) and there its journey stopped. I knew my non-traditional pose of a duck flapping its wings would not appeal to all and it was a gamble to enter this type of pose. On the whole they tend to like sort of a 'cookie cutter' look for the winning stamp image and this year was no exception. Next year I might go the more traditional route... but who knows :)

Federal Duck Stamp Entry 2012 - Common Goldeneye
Mid-September included the opening for the American Academy of Equine Art Fall Juried Show. Interestingly I was told about four years ago that scratchboard was not eligible to be submitted to the show. I pursued it with an entry the following year and got one scratchboard in (and one graphite drawing). This year not only were all three of my scratchboards accepted, but one of them won the drawing/graphics division. "
Wisdom
" took home the honor and through a viewer and I heard it has also sold at the show!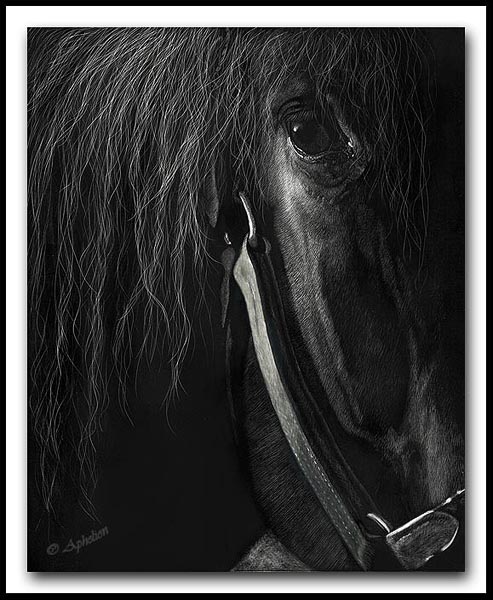 "Wisdom" - 10"x8" - Scratchboard - Winner of the Graphic Division of the AAEA Fall Show - SOLD
Mid-October was the opening for the Kentucky National Wildlife Art Exhibition in Henderson, Kentucky. I had two works juried in and ended up with two awards! "
Spring Loaded
" won the
A. D. & Barbara Sprague Award
and "
Edge Of Darkness
" won the
John Richard Warren Award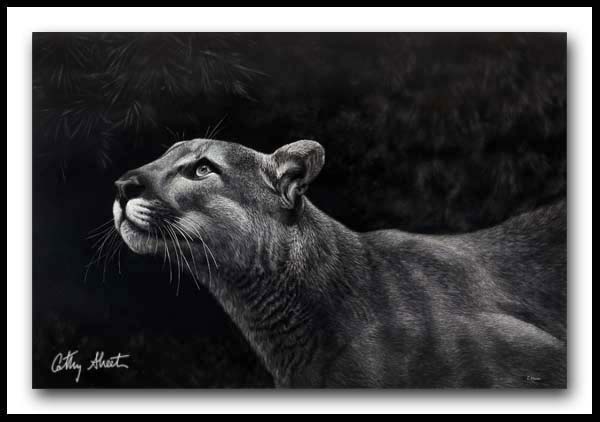 "Spring Loaded: - 20"x30" - Scratchboard - winner of an award at the KNWE

"
In Hot Pursuit
" was juried in to the Lone Tree Art Show, a local show for me. It opening this past Saturday, but unfortunately I was unable to attend the opening and have not had an opportunity to view the show yet to see how it did.
"
The Interrupted Drink
" and "
Preening Macaw
" were both juried in to the Estes Park Lines Into Shapes Show, which opens this coming Friday at the Art Center of Estes Park.
A Few of you may have noticed my full page ad (which I won last year) and nice mention in Southwest Art Magazine in the November Issue with an article about Women Artist of the West upcoming Exhibition. If you missed it you can see the article
here
. The ad looked something like this:
Well that's all for now my friends. I will have new work to post next time around!
Cathy